Seasonal Tips / Offers
Pest Control Tips for Summer & Fall
During the summer and fall months be on the look out for ants, cockroaches, fleas and ticks. Here are a few additional helpful tips: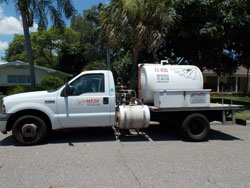 Treat lawns for disease, fleas and ticks and chinch bugs
Treat household pests - fleas, ticks and carpenter ants
Treat Palms and Ornamentals for pesky Whiteflies
Resume regular scheduled watering during hot, dry periods to prevent stress in lawn and shrub areas
Call us to set up Fall fertilizing for Lawns, citrus trees & shrubs (Pinellas ban 06/01 - 09/30/2019)
The best time to prune trees and shrubs is after the last flowers fade. Fall is also the best time to fertilize the lawn, trees and shrubs.
Lawns especially have stress from warm summer days and some may be prone to fungus from the heavy rains this time of year. Mushrooms may appear in areas where organic matter resides in the soil. It is best to hand remove before mowing so the spores do not spread and germinate. Mushrooms do not hurt the lawn but become unsightly in an otherwise green venue.
Heavy pruning of hibiscus is best done now. New growth should produce flowers in five to six weeks. Light maintenance pruning may be done at any time of year to keep plants at desired heights.
Citrus will be forming on the trees - some fruit will drop as the tree sustains only the fruit it can support. Watering should be kept to a minimum during the rainy season and during fall.
THINK GREEN !!!!!!
GO PAPERLESS!

Phone: (727) 546-5758
Email: brenda@webbspraying.com



Save Money Now!

Refer a Friend and receive $10.00 off your next service!

Phone: (727) 546-5758
Email: brenda@webbspraying.com

Limit one per customer. Cannot be combined with any other coupon or discount. Only one coupon may be applied per transaction. Coupon must be surrendered at time of service.