Contact us / Make a Payment / Send us a Review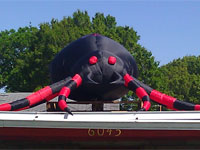 RR Webb Spraying Service Inc
6045 54th Avenue North
St. Petersburg, FL 33709
Phone: (727) 546-5758
Fax: (727) 547-9317
Email: judy@webbspraying.com
Email: brenda@webbspraying.com
Hours of Operation
Mon - Fri 7:00 am to 3:00 pm
If you call after our office hours leave us a message and we will promptly respond.
Make a Payment - secure private server
SAVE $$ BY SENDING US YOUR EMAIL or SIGN UP FOR AUTO-PAY!!!
Click here to make a payment. Your business is sincerely appreciated!
Request Service or Update your Contact Info: